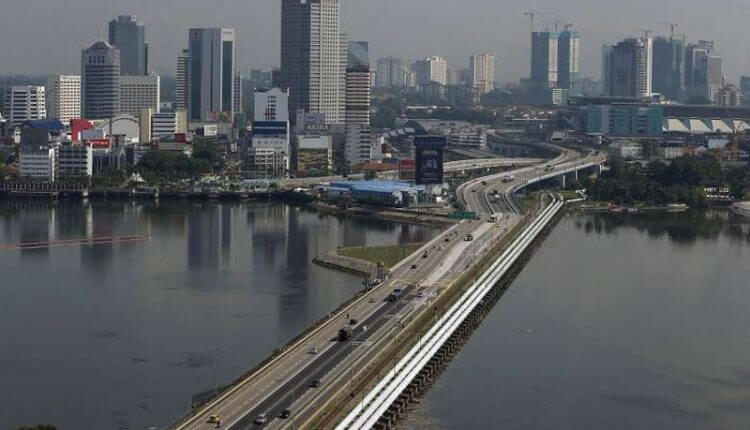 No time for a proper holiday? Used up all your leave but longing for a getaway at a budget price? Pack your bags now, bring along your passport and grab a taxi for a 2D1N trip to Johor Bahru now!
Cost of transport to JB: Less than SGD 15
Crossing over to Johor Bahru is as easy as going to anywhere is Singapore. The most attractive part is the currency exchange rate (1ooSGD to 309RM as of this writing ).
InterestGuru.sg shows you all the places you can head to, all within 15 minutes away from the Woodlands Checkpoint. (You're welcome:)
L'table by Lavender
*Photo from Tripadvisor
Fancy some fine-dining at an affordable price? Head over to L'table at Pelangi now. Using the freshest ingredients and a nice ambience at the restaurant, this is a must visit place for either lunch or dinner. My favourite got to be Squid stuff with Risotto, the Homemade Duck Confit and Truffle Fries. Finish off your meal with the best cakes from Lavander cafe. Forget about fine-dining in Singapore. Cross the border now to stretch your dollar and save more money.
Cost: 100 RM (33 SGD) for a four-course dining with champagne from a la carte menu (per pax).
Distance: 10 – 15 mins by Grab from JBCC or Komtar
Address: 80400, 58-68, Jalan Serampang, Taman Tebrau Jaya, 80400 Johor Bahru, Johor, Malaysia
Opening hours: 11 am to 4 pm, 6 pm tp 10 pm (Mon to Thurs), 10 am to 5 pm, 6 pm to 11 pm (Fri to Sun)
JB Bazaar (Pasar Karat)
Loving Bangkok Night Market? This JB Bazaar is the Malaysia version of Bangkok Night Market. Go there at least once to experience it. The items selling there are mainly counterfeit items but at a very cheap price. They also sell cheap t-shirts starting from 8 RM. Basically, everything can be found there, ranging from toys to bags to antiques to jewellery and even cosmetics. The bazaar is within walking distance from City Square and Komtar. Grab a Sim card and switch on your GPS, if not take a grab or Uber there. It should cost you less than 10 RM.
Cost: N.A. (Depending on what you purchase, everything is a lot cheaper compared to the same stuff in JB shopping mall)
Distance:  5 – 8 mins walk from JBCC/ Komtar
Address:  20, Jalan Segget, Bandar Johor Bahru, 80000 Johor Bahru, Johor, Malaysia
Opening hours: 7 pm till late night
Amphawa Boat Noodle
Walk till the end of the night market and into one of the alleys, you will find Amphawa Boat Noodle. The stylish 2-storey restaurant stands out from the rest of the shop. This restaurant sells decent Thailand cuisine (Halal) at a very affordable price. Their boat noodle cost 1.90 RM per bowl, and their signature dish got to be the Tom Yum Gung lobster noodles, which is great for sharing among 3 to 4 people. This will be a place good for dinner or supper after finishing the JB Bazaar.
Cost: 45 RM (15 SGD), authentic Thai food as good as being in Thailand
Distance: 10 mins by Grab from JBCC/ Komtar. 2 Mins walk from JB Bazaar above
Address: 37 Jalan Tan Hiok Nee, 80000 Johor Bahru, Malaysia
Opening hours: 11:30 am to Midnight
Friendscino Restaurant and Bar
Also situated near Pelangi, this is a place for food and chill drinking. There are live bands and a lot of darts machine in this pub. Trendy and huge, the kitchen serves decent Western food at awesome pricing. Check this out if you are looking for a drinking place after dinner, or wanting to have dinner together with some ice cold beers.
Cost: 120 RM (40 SGD) for 2 x 3L beer tower during happy hours
Distance: 10 – 15 mins by grab from JBCC or Komtar. 1 min walk from L'table by Lavender
Address: No. 55, Jalan Serampang, Taman Sri Tebrau, 80050 Johor Bahru, Johor, Malaysia
Opening hours: 11 am to 3 am
Food Street at Meldrum Walk (The back alley)
This is a 5 minutes walking distance from City Square. This traditional Malaysian food street is near to Belllo Hotel and T Hotel. Spoilt with choices, this place is where all the locals eat. From Indian food to Malay Food to Chinese food, this food street is famous for their Char Kway Teow and BBQ Chicken Wings. Forget about dining in a restaurant in City Square or Komtar, head over here to get the real taste of yummy food in Johor Bahru.
Cost: 6 to 15 RM (2 to 5 SGD), depending on what you order.
Distance: 5 mins walk from JBCC or Komtar
Address: The back alley next to Belllo Hotel, not to be mistaken with the street opposite Bello hotel. If you can't find it, check with the friendly reception at Belllo Hotel.
Opening hours: 5 pm till 11 pm
Restoran Ya Wang
Restoran Ya Wang is the consultant to the first Dian Xiao Er restaurant chain in Singapore. Besides the normal duck gravy, they also offer 2 other types of herbal gravy that you should certainly try. The restaurant also offers a wide variety of Zi Char food items at just 8 to 20 RM depending on the item. The BBQ pork is pretty decent with a thin layer of fat. Try their fish and seafood items which are pretty fresh and reasonably priced.
Cost: Half a roasted duck and 6 dishes, rice and drinks for 4 persons set us back by 160 RM (40 SGD)
Distance: 5 to 10 mins walk from JBCC/ Komtar
Address: 28, Jalan Segget, Bandar Johor Bahru, 80000 Johor Bahru, Johor, Malaysia
Opening hours: 8 am to 6 pm